Mt. Tsurugi-dake 〜Kani no Tatebai(Vertical crab crawl)& Kani no Yokobai (Horizontal crab crawl)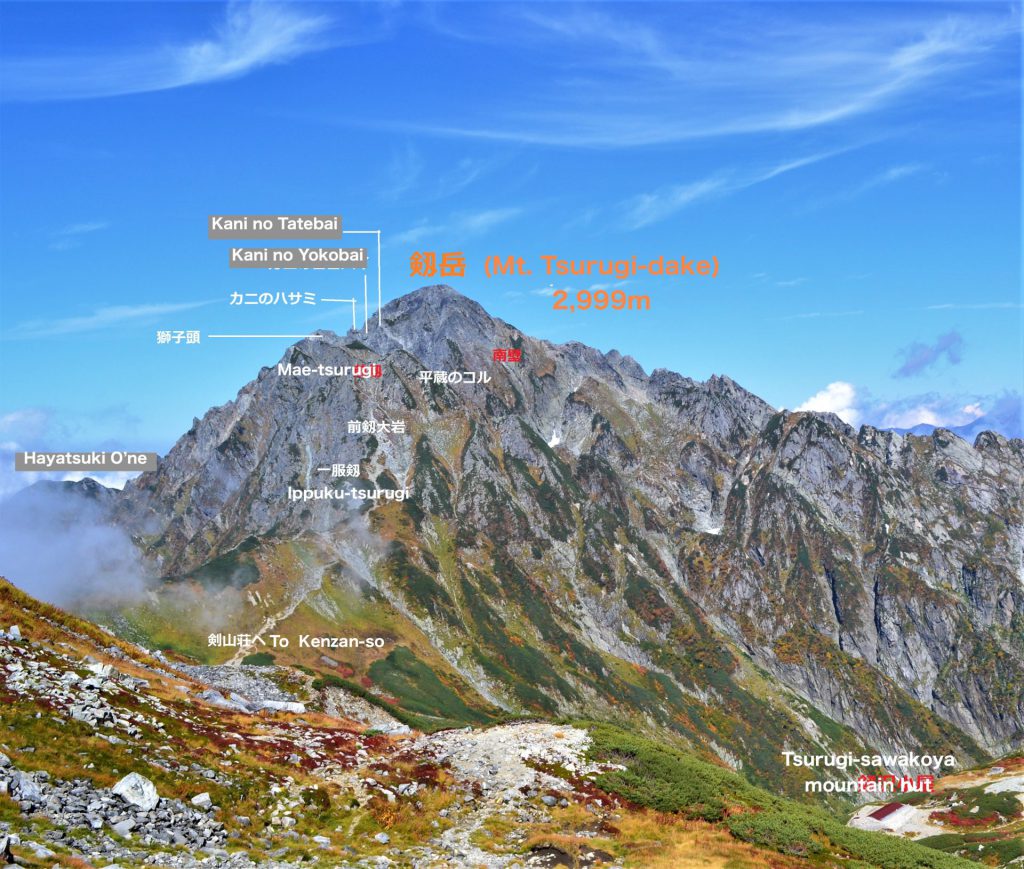 Here we go! To the most difficult route of the 100 famous mountains in Japan!
The peak of Mt. Tsurugi-dake is famous for being a "palace of rock and ice." All hikers long to climb this mountain, but it is covered entirely in rock; there is no soil on the mountain. One reason for its popularity may be that it is reminiscent of the high mountains of Europe. Even more people started visiting the mountain after it served as a movie set.
However, it ranks among the most difficult general mountain trails to climb in Japan. As you might imagine, it is a series of ups and downs over rocky terrain, but it is fully equipped with assistive chains and ladders. The elevation of the summit is just under 3,000 meters, but it is still, without a doubt, one of Japan's most famous peaks.
From Kenzan-so mountain hut, which stands at the trailhead, the trip to the peak and back can be made in five hours, but it is best to plan your schedule so that you are descending the mountain as early in the afternoon as possible. Once you start climbing, there is nowhere to take cover. Retreating is also difficult, so on days when the weather is bad or looks like it might get rough, it is important to refrain from climbing the mountain.
Detailed route writer
Shinji Nakata, Mountain writer, Mountain walker
Born in Matsumoto city, Nagano prefecture. After working for a publishing company, he became a mountain walker and as of December 2021, he has left his mark on more than 3,300 Japanese and mountains abroad. He has written many books on mountain guiding.
Director of The Japan Alps Guide Center
Detailed route from Kenzan-so mountain hut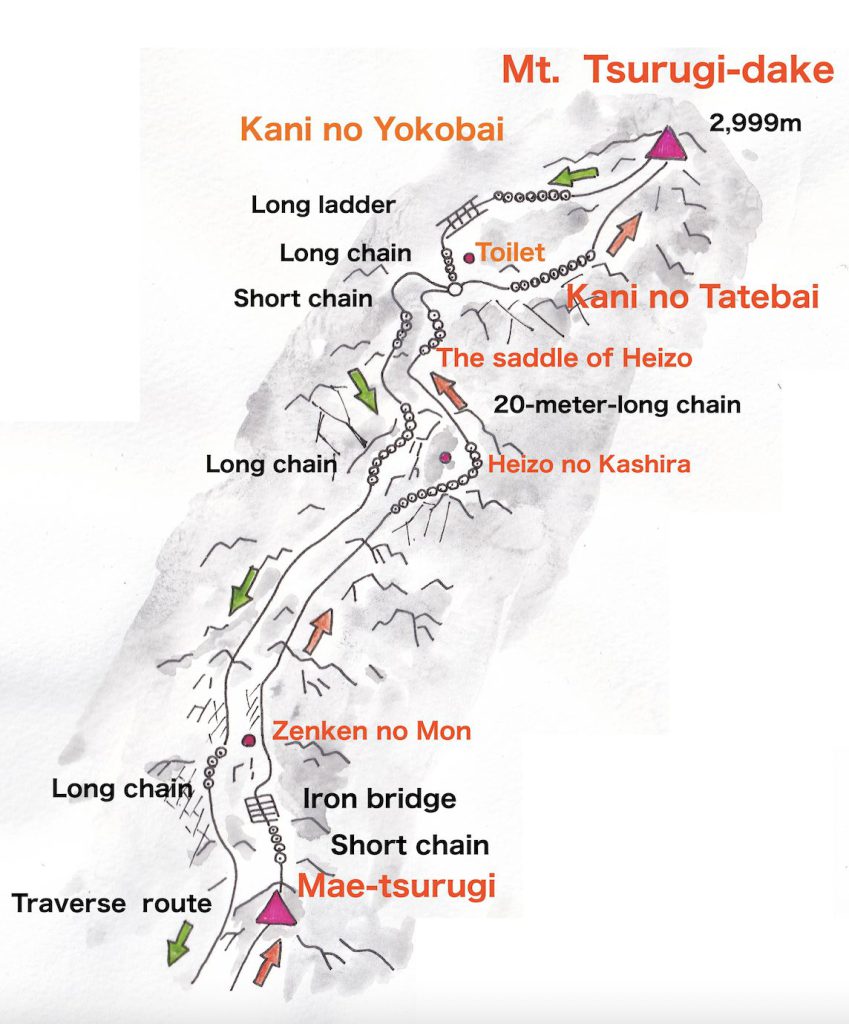 The figure is a simply illustrated course overview.
As you can see in the figure, there are many chains. In addition, in places where there are no chains, footing is quite narrow, and you will not be able to put your foot flat on the ground. You will therefore be bumping your ankles on the rocks, so it is a good idea to wear the highest cut hiking boots possible.
Trekking poles are not necessary as they will only get in the way. Make sure to leave them at the hut. In the past, there was an accident in which someone slipped and died while using trekking poles descending the area around Mt. Maetsurugi-dake, so it is important to remember not to bring them.
You will need to use three points of contact at all times when there are no chains. Be careful not to allow the view or chatting with your climbing mates take up too much of your attention, and be as cautious as possible.
First, you will enter the mountain trail from the side of Kenzan-so. You will ascend in a series of small zigzags. You can feel that you are steadily gaining altitude. After a short pause at Ippuku Tsurugi, you will descend through the high pines. You will soon reach the Musashi saddle. From here, you will climb up the rocky terrain. You will have to follow the paint marks. After that, there is a long cliff. If you climb up here, you will be on the ridge of the Mae-tsurugi. And from here, there are separate routes for ascending and descending.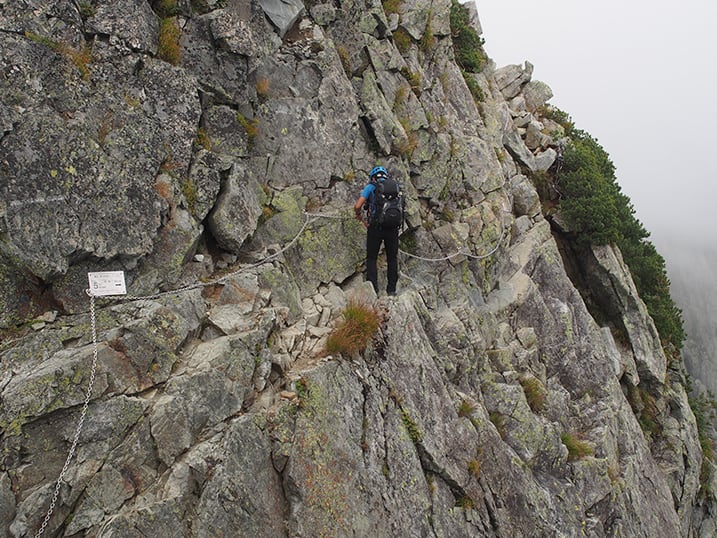 As you pass the top of the Mae-tsurugi peak, you can see the overwhelming scale of Mt. Tsurugi-dake looming in front of you. There will be about thirteen cliffs where you will use the chain on the way up and back. Keep your spirits up and walk.
You will have to use the chain to descend a few meters after Mae-tsurugi. You will cross a small iron bridge and climb up the slope of a large rock. From this rocky peak, you descend a long chain path and climb back up from the lowest part. At the end is the Kani no Tate-bai. The vertical rock wall is covered with chain. There is no problem if you climb calmly. If you are familiar with the rocky terrain, you can climb without relying on the chain. Once you get past here, slightly to the right is the summit of Mt.Tsurugi-dake.
The summit of Mt. Tsurugi-dake is covered with rocks and there are few flat areas. Enjoy the 360-degree view at a suitable place. In summer, there are many climbers, so it is necessary to give each other a hand.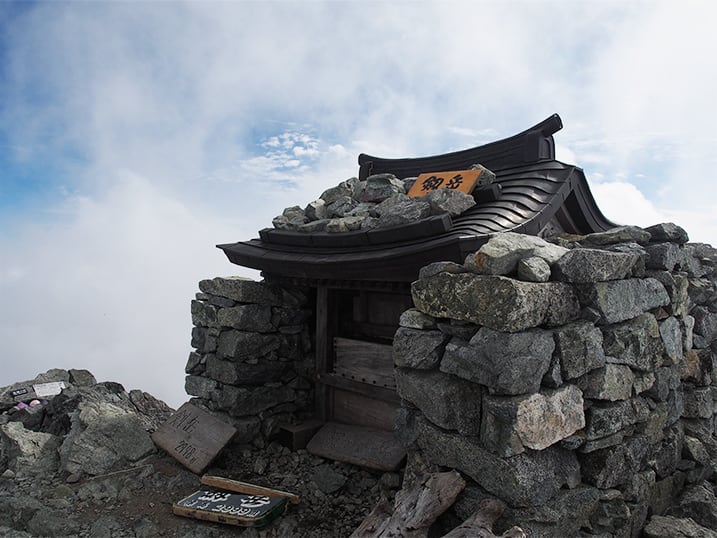 The descent is a slight return to the previous route, and one is challenged with the most difficult part of Mt. Tsurugi-dake, the Kani no Yokobai (crab's leafhopper). First of all, descend by relying on a chain hung between the rocks. At the starting point of the Kani no Tatebai, grip the chain firmly in a backward position and look for a place to put your right foot in the hollow of the rock. Once your right foot is in place, place your left foot next to it. Then place your left foot on the course carved into the large rock on the left. Holding the chain tightly, pull your right foot in the same way, and you are on the Kani no Yokobai. Walk sideways for a few meters and descend the ladder. There will be more chains, but as long as you keep focused, you should have no problem.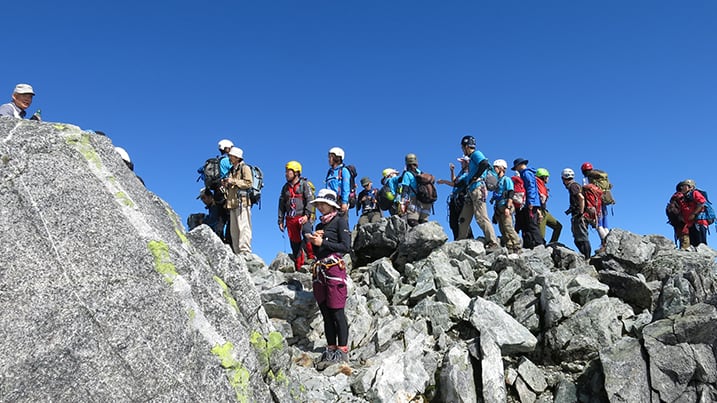 After that, you should be able to walk downhill smoothly as there are no unseen sections like the Yokobai. You will be at the top of a long chain before the Mae-tsurugi. Burn into your memory the magnificence of Mt. Tsurugi-dake, and take the outward route down to Kenzan-so.
Kani no Tatebai detailed route guide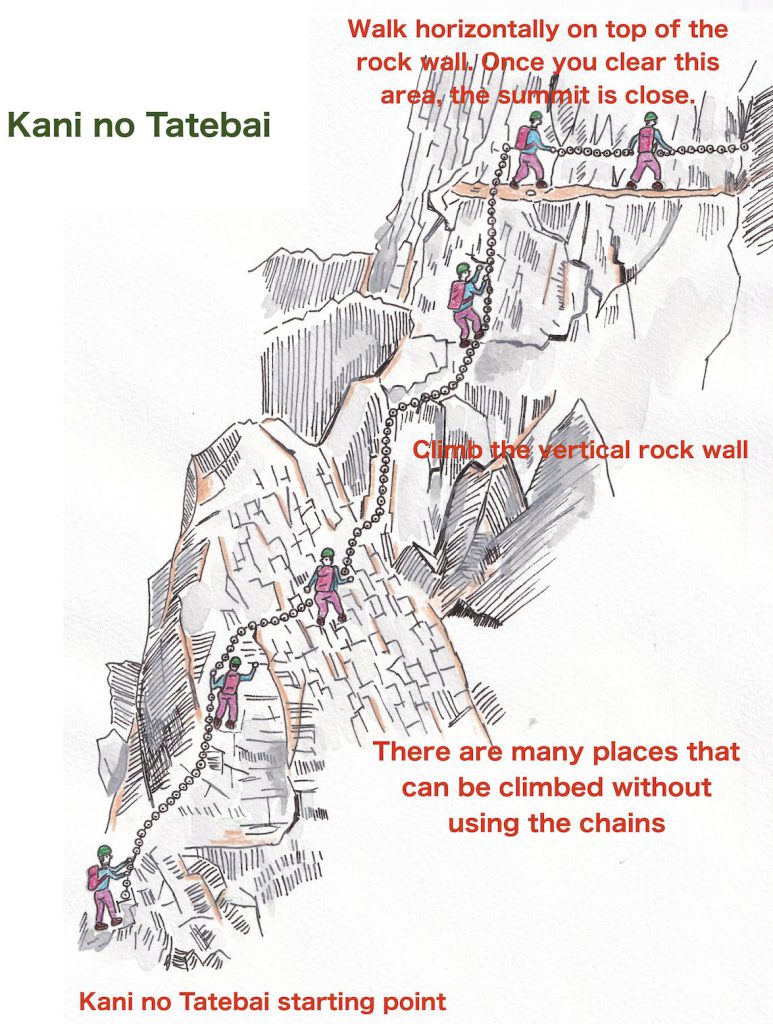 The illustration is an image of Kani no TatebaiFor people who are somewhat accustomed to climbing rocks, they should be able to clear the Kani no Tatebai without much trouble. Such people will know where they can climb without using the chains, but please make sure to stay within the level of your ability. When you do use the chains, be careful not to get too close to the person in front of you. If the person in front of you is pulling on the chain, that reverberation can shake the chain, which could be dangerous for you. The chain here is attached tautly, so there should not be that much of a reverberation, but it is best to avoid danger and maintain some distance. It is also dangerous to grasp the chain tightly because you are afraid. You will not be able to continue climbing. Please do not use it as anything more than an aid for walking.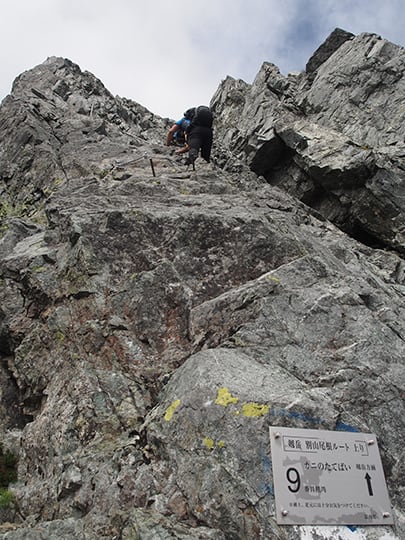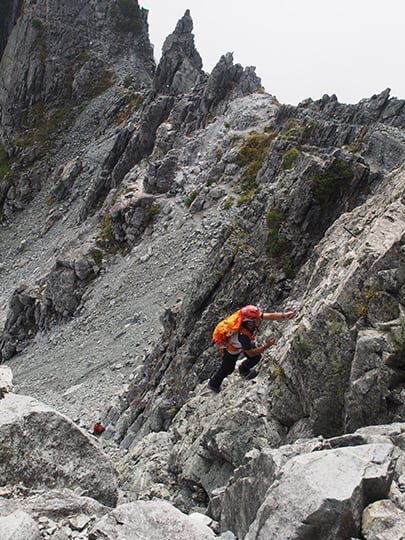 Kani no Yokobai detailed route guide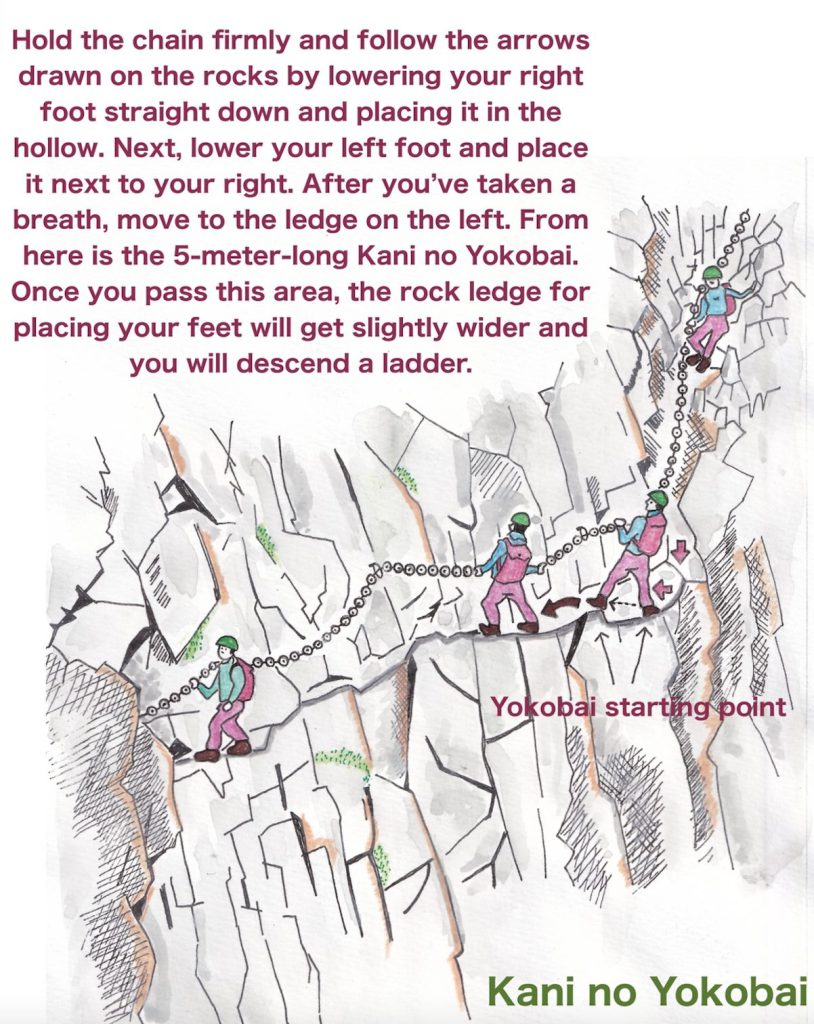 You will descend between rocks until the starting point of the Kani no Yokobai. It tends to get crowded until you reach the starting point, so do not rush. A red, downward pointing arrow has been drawn on the Yokobai starting point rock. On the rock next to it, when looking down on it from above, a red arrow pointing to the right has been drawn.
From here you will face backwards, hold the chain firmly, and dropping your right foot down in the direction of the downward pointing arrow, you will find a hollow in the rock. Place your right foot in the hollow, then lower your left foot alongside it. Keep your right foot along the rock wall as you move it over to the left rock ledge. This is why the area is called "Yokobai," which means "crawling sideways." Rely on the chain as you continue to travel to the left. When climbing in a group, the most advanced hiker should start first and instruct each person who follows where to place their right foot. When shifting to Yokobai, if you pass through with the mountain in front of your body, you should be able to pass safely.
There is also a method where an advanced climber uses a rope to secure people from above as they shift to the Yokobai. Another method is for everyone to secure themselves by wearing a harness and attaching a carabiner to the chain, but it may take some time for people who are not accustomed to using this method.
I have seen a group of people who climbed up from Kenzan-so using trekking poles and left them at Ippuku-tsurugi. I think it's a good idea to leave them there before you start the serious rock climbing in Tsurugi. I heard that a man was in a hurry because he was climbing in a group and the group split up on the way down. Unfortunately, this man died. It is advisable to leave your trekking poles behind when you leave Kenzan-so. Also, if you are in a group, it is important to keep pace with the weakest person and make sure that no one falls behind.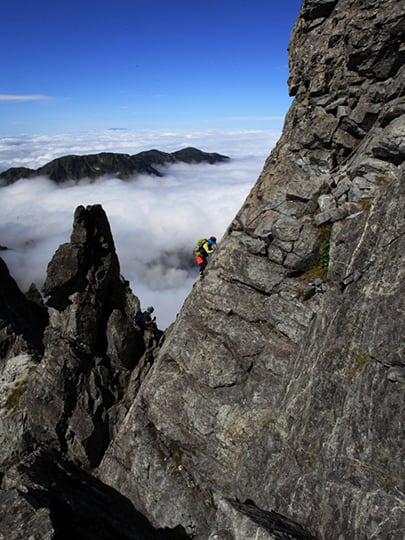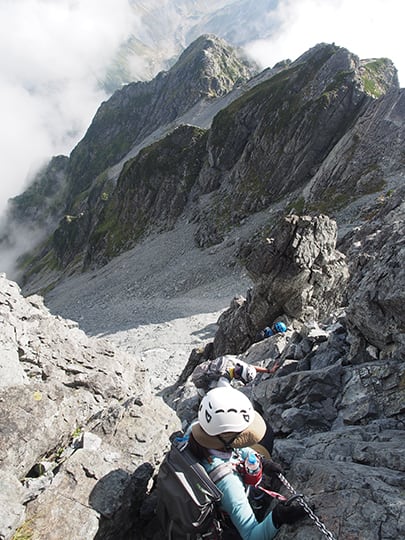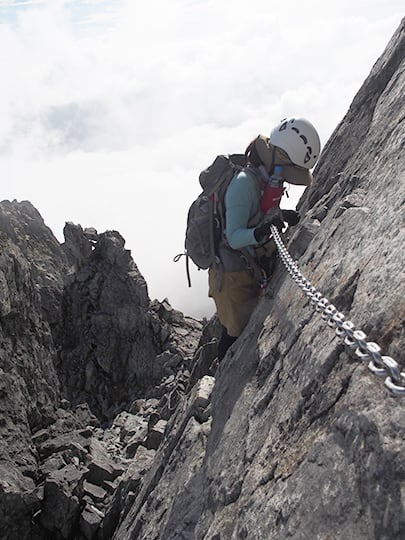 Elevation Map: from Kenzan-so to Mt.tsurugi-dake