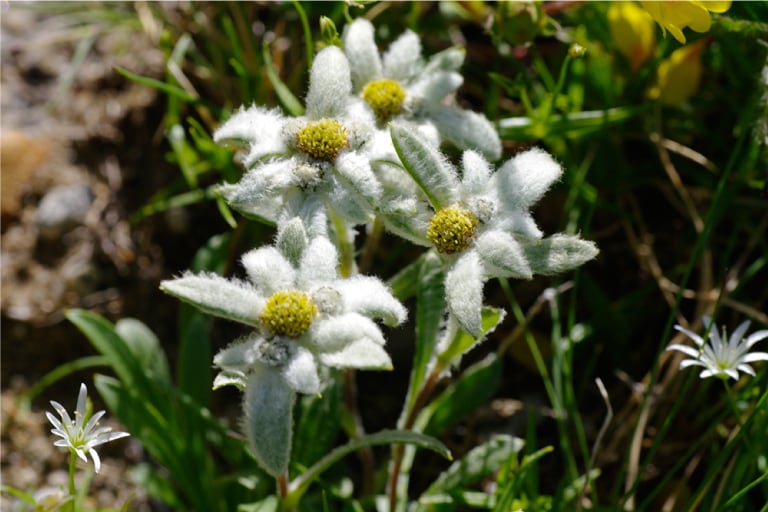 A few treks within The Japan Alps impress one that they are endowed with a rich natural environment as well as breathtaking views.
Spring, Summer, Fall and Winter.
Without a doubt, Japan's four seasons present a splendid array of expressions.
In the Spring, the snow melts and new greenery shoots forth.
With the coming of summer, the mountains are blanketed with beautiful alpine flowers; in the Fall, the mountains are awash in a brocade of glorious colors [known as "KINSHYU" in Japan].
And in the Winter, they are covered with "JAPAW," Japan's famous powder snow. In each season, one may encounter precious moments that only can be experienced in Japan.
Surrounded by a deep forest for a while from the trailhead, Walking in the woods is one way to enjoy the Japan Alps. In his book, W. Weston, who introduced The Japan Alps to the world, says "The distinctive charm of the scenery mainly lies in the richly wooded gorges." ※1
Furthermore this area is known as a "HOT SPOT" where there are several endangered species including animals such as the RAICHO, the OGOJO, plants like the KOMA-USUYUKISO and alpine butterflies such as the MIYAMA-MONSHIRO-CHO. Taking the opportunity to observe such fauna up close is a way of enjoying a mountain trek that is distinctive to Japan.
Additionally the vast area that includes The Japan Alps has many Onsen [hot spring] and other tourist attractions like the Matsumoto castle, the Takayama old house streets of Japan and others that can be approached easily from Tokyo or Kyoto.
Any time you visit, no matter how many times you visit, you will always find fresh attractions in "The Japan Alps".
Come on mountaineers, set foot in the miracle mountains of The Far East!
It should also be a mountain trip to rediscover yourself.
---
※1
「The Playground of The Far East」
Walter Weston 1918