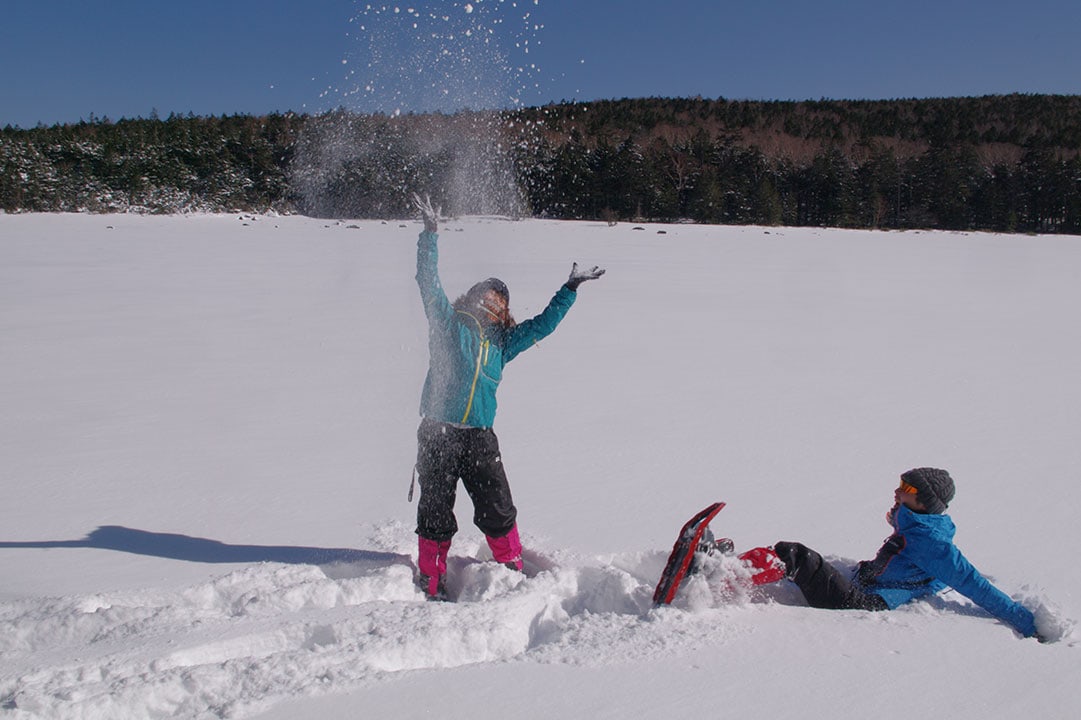 The Allure of Snowshoeing at Yatsu-gatake
The Yatsu-gatake mountain range stretches across 30 km from north to south and is divided into the Northern and Southern Yatsu-gatake mountains.
The Southern Yatsu-gatake mountains are relatively new peaks among the Yatsu-gatake mountains created from volcanic activity, so its steep rocky peaks are attractive to hikers, and in winter it becomes the playing field for full-scale winter mountain hiking. The Northern Yatsu-gatake mountains, on the other hand, were created from volcanic activity more than one million years ago, so erosion has progressed to the point that the peaks are now a series of gently sloping mountains. The mountains are covered in subalpine forests of Veitch's silver fir and northern Japanese hemlock almost all the way up to the summit, and in seasons without snow, they are popular as moss forests.
In winter, snow eventually accumulates throughout the moss-covered forests, and they overflow with a bright, crisp atmosphere. You may find a variety of animal tracks dotting the snow, a valuable experience that will remind you of the existence of wild animals and that humans are not the only living creatures inhabiting the world. Another attraction of Yatsu-gatake in winter is the high probability of blue skies, which means you have a good chance of seeing the "Yatsugatake Blue" as the deep and vividly azure-colored sky is called. If you are lucky, you can snowshoe through pure, glistening white trees covered in hoarfrost against a background of "Yatsugatake Blue."
Yatsugatake snowshoes
Best season from early January to early March
Use the ropeway to ascend up to an elevation of 2,237 meters and from there we will start our snowshoe trek. Even beginner hikers will be able to easily experience the beauty of the subalpine zone in winter. On the Shimagareyama route, if the conditions are right, you can see the majestic figures of the Northern Alps, Central Alps, Mt. Ontake-san, Southern Alps, and Southern Yatsu-gatake mountain ranges. On the Amaike route, you will walk through beautiful forests of Erman's birch and Veitch's silver fir.
Guide
Camp North Outdoor Support Owner
Kazuya Nakajima
Kazuya Nakajima, owner of Camp North Outdoor Support, lives in the Yatsu-gatake mountains (Hokuto City, Yamanashi Prefecture) and is originally from Numata City in Gunma Prefecture. Tent camping in Oze while there was still snow on the ground turned him on to the attractions of the mountains, and he began solo mountain hiking. His strong desire to visit Alaska drew him to kayaking as a tool for traveling in the wilderness, and he soon started whitewater kayaking. Since then, he engages in outdoor sports year-round enjoying hiking and kayaking in the summer and skiing in the winter.
1997 First visit to Alaska.
Since then he visits Alaska annually. He has taken long journeys kayaking the rivers of the Arctic Circle, the Arctic Ocean and Glacier Bay, and backpacked through Denali National Park and Preserve and the Brooks Range. In recent years, he has made several packrafting and backpacking journeys visiting the Arctic National Wildlife Refuge to witness the seasonal migration of caribou.
April 2013/ Acquires Mountain Hiking Guide certification (Mountain Hiking Guide Stage II) from the Japan Mountain Guides Association and starts working as a hiking and snowshoeing guide.
June 2015/ Passes the River Senior Instructor Exam offered by the Japan Recreational Canoe Association
Starts offering outdoor tours using packrafts.
January 2019/ Appears as a guide on Mt. Mizugaki on the cable TV show "Nippon Hyakumeisan" (Japan's 100 Famous Mountains)
Member of the Shizuoka Mountain Nature Guide Association

Certified Travel Supervisor

Yamanashi Camping Association Auditor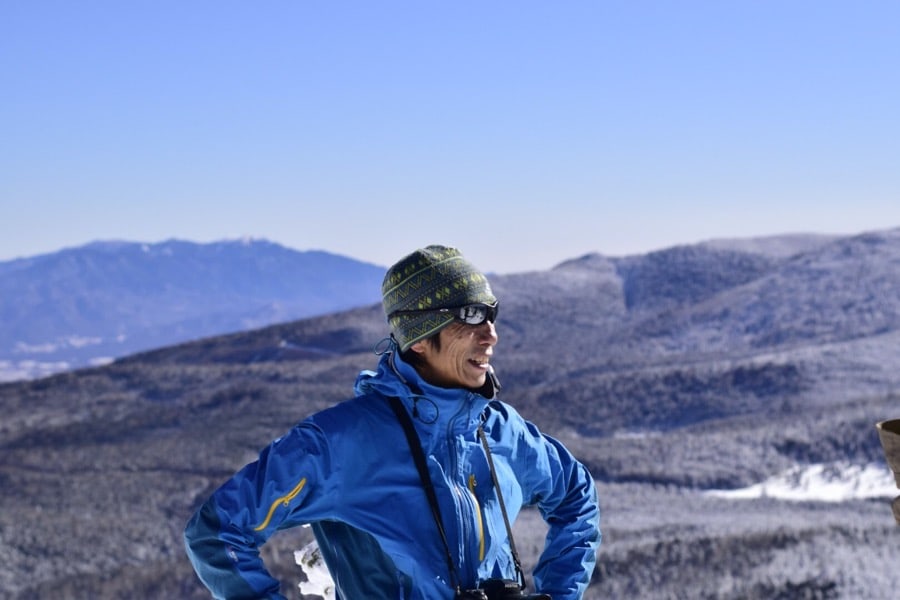 Trailhead vicinity weather
Weekly weather forecast zone:Central Nagano Prefecture
DAY
WEATHER
LOWEST
HIGHEST
3/28
5℃
14℃
3/29
4℃
16℃
3/30
5℃
19℃
3/31
5℃
19℃
4/1
7℃
18℃
4/2
9℃
18℃
This is a publication of the calculated figures for weather predictions and is not the weather forecast. There are instances where there will be big differences in the values stated for the mountains, in accord with the topography as well as sunlight, etc. so please take care.
72 hours weather information:North Yatsugatake Ropeway, Tateshina, Kitayama, Chino City, Nagano Prefecture
Date and time
3/28
1:00
3/28
2:00
3/28
3:00
3/28
4:00
3/28
5:00
3/28
6:00
3/28
7:00
3/28
8:00
3/28
9:00
3/28
10:00
3/28
11:00
3/28
12:00
3/28
13:00
3/28
14:00
3/28
15:00
3/28
16:00
3/28
17:00
3/28
18:00
3/28
19:00
3/28
20:00
3/28
21:00
3/28
22:00
3/28
23:00
3/29
0:00
3/29
1:00
3/29
2:00
3/29
3:00
3/29
4:00
3/29
5:00
3/29
6:00
3/29
7:00
3/29
8:00
3/29
9:00
3/29
10:00
3/29
11:00
3/29
12:00
3/29
13:00
3/29
14:00
3/29
15:00
3/29
16:00
3/29
17:00
3/29
18:00
3/29
19:00
3/29
20:00
3/29
21:00
3/29
22:00
3/29
23:00
3/30
0:00
Weather
Temperature
-2℃
-1℃
-1℃
-1℃
-2℃
-2℃
-2℃
-1℃
0℃
2℃
3℃
4℃
5℃
5℃
6℃
5℃
3℃
2℃
0℃
0℃
-1℃
-1℃
-1℃
-2℃
-2℃
-2℃
-2℃
-3℃
-3℃
-3℃
-3℃
-2℃
0℃
2℃
4℃
5℃
6℃
7℃
7℃
7℃
6℃
5℃
3℃
2℃
1℃
0℃
0℃
-1℃
Precipitation
0mm/h
0mm/h
0mm/h
0mm/h
0mm/h
0mm/h
0mm/h
0mm/h
0mm/h
0mm/h
0mm/h
0mm/h
0mm/h
0mm/h
0mm/h
※ 16時間以降は表示されません
Wind direction
none
1m/s
none
1m/s
none
2m/s
none
2m/s
none
2m/s
none
2m/s
none
1m/s
none
2m/s
none
2m/s
none
2m/s
none
2m/s
none
3m/s
none
3m/s
none
2m/s
none
2m/s
none
2m/s
none
2m/s
none
2m/s
none
2m/s
none
2m/s
none
2m/s
none
2m/s
none
1m/s
none
1m/s
none
1m/s

0m/s

0m/s

0m/s

0m/s

0m/s
none
1m/s

0m/s

0m/s

0m/s
none
1m/s
none
1m/s
none
1m/s
none
1m/s
none
1m/s
none
1m/s

0m/s

0m/s

0m/s
none
1m/s
none
1m/s

0m/s

0m/s

0m/s
※The weather information will be information on 5km square including the relevant point.

Yatsu-gatake Snowshoe Tour
Beginner Course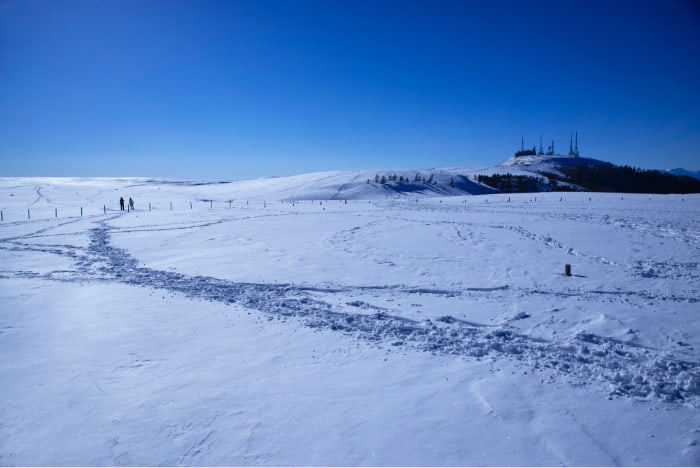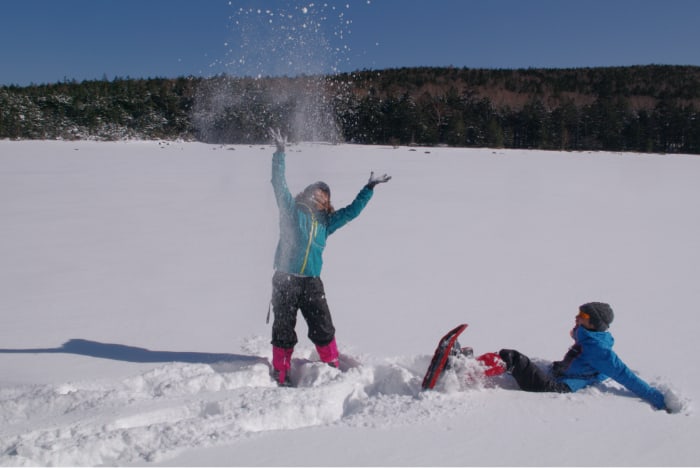 ◆Best suited for those experiencing the back country for the first time and people who want to relax and enjoy themselves
◆Main fields: Northern Yatsu-gatake, Amaike, etc.
Try snowshoeing and snowy mountain trekking with crampons!
Why not trek in the snowy mountains with snowshoes and crampons?
Snowshoe tour for beginners
Putting on snowshoes and walking on top of the fluffy snow is a fun experience. The feel of climbing with crampons and really grabbing onto the snow is a completely different and new experience compared to summer mountain hiking. The cold is harsh, which may make it difficult at times, but spending the day surrounded by the beautiful scenery of the winter mountains always infuses you with a certain power! You will walk with a certified mountain hiking guide who will safely show you how to enjoy nature and explain its attractions while providing a lecture on the basics of snowy mountains. Let's forget about everyday life and experience the warm and bright world of snow together.
Basic Tour Introduction
Beginner course for experienced snowy mountain hikers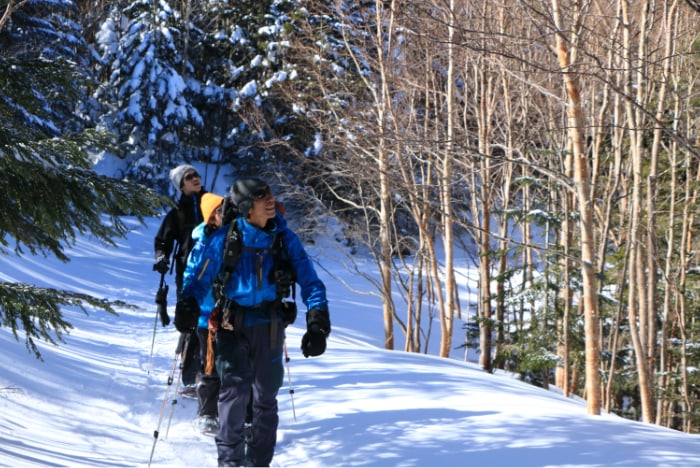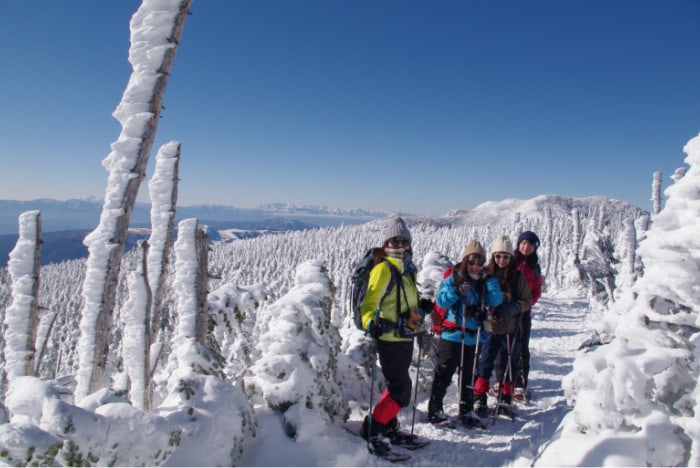 ◆For those who have participated in a beginner course before
◆Main fields/ Northern Yatsu-gatake, Amaike, etc.
Recommended for those who want to climb snowy mountains and hike mountains in winter but are nervous because they are beginners!
A tour for snowy and winter mountain beginners with a basic lecture on snowy mountain hiking, including how to use crampons, etc.
The elevation of Yatsu-gatake's Mt. Kitayoko-dake is 2,480 meters.
The summit lies beyond the tree line offering stunning views of Japan's most renowned peaks, including Mt. Tateshina, one of Japan's 100 famous mountains standing right before you, as well as the Southern Yatsu-gatake mountains, Southern Alps, Central Alps, and Northern Alps! The ropeway will take you straight up to an elevation of 2,200 meters, so the climbing elevation gain will only be 300 meters, a distance even beginning hikers can climb with relative ease. Along the way, you will receive a lecture on the basics of snowy mountains and hear about the natural environment of the Northern Yatsu-gatake mountains as you climb at a slow pace. You don't have to worry about toilet breaks as Kitayoko-dake Hutte is located along the route. We will pitch portable tents or shelters for lunch. You will experience first-hand the importance of a portable tent, and it can also be used for summer hiking.
Specific Tour Introduction
Yatsu-gatake area ski resorts
There are several ski resorts in the Yatsu-gatake area, which straddles the border between Yamanashi and Nagano Prefectures. They do not have as many courses as the resorts in Hakuba, but they are very easily accessible from the Tokyo metropolitan area. Each of the ski resorts can be reached in as little as two hours on the expressway from Tokyo. If you are only skiing for the weekend, you'll want to prioritize easy access. These resorts are perfect for those who want to include both skiing and snowboarding among their activities.