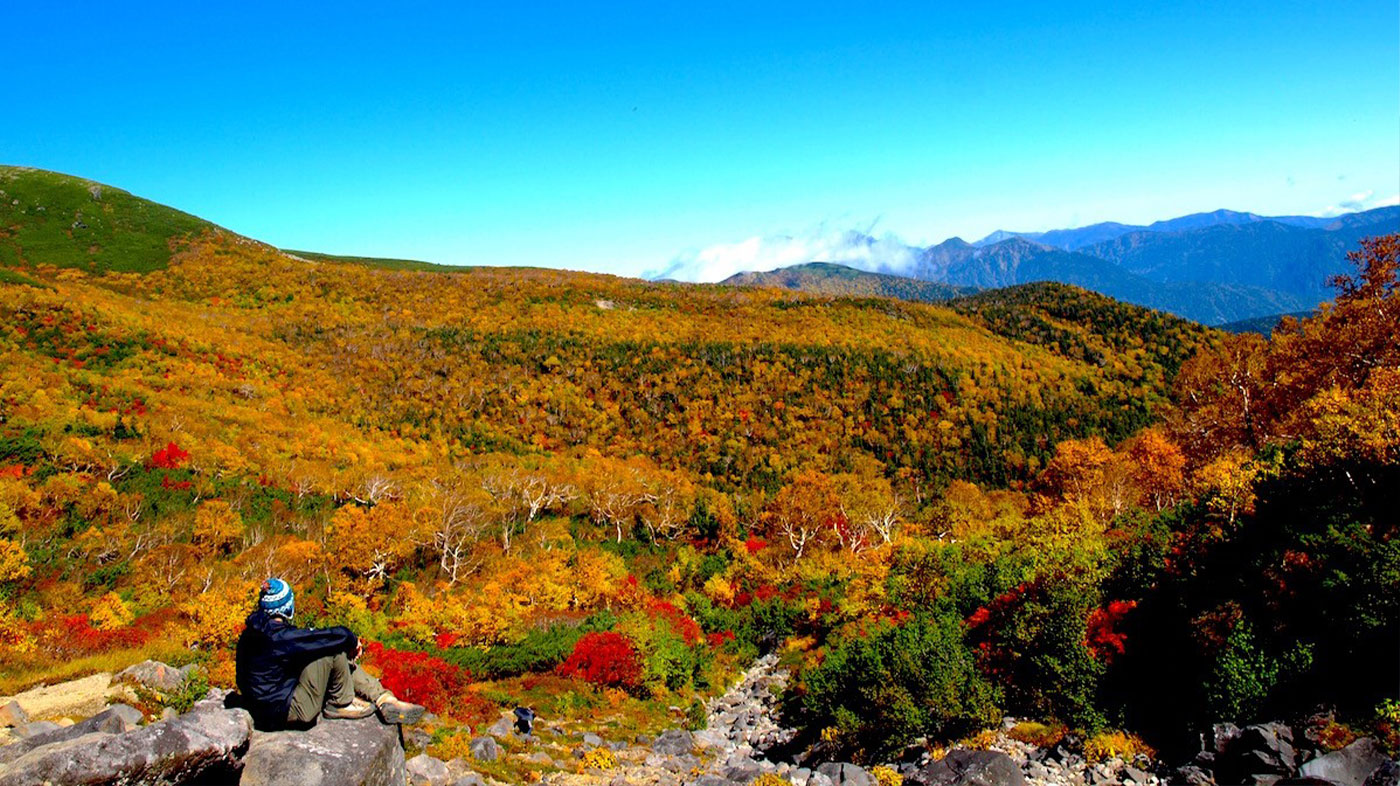 Mt. Norikura-dake is known as the easiest 3,000 m class mountain in Japan and many hikers from young and old, from ladies and gentlemen and from beginners to experts visit the mountain. The mountain, an active volcano, sits at the border of Gifu prefecture and Nagano prefecture. Its highest peak, Kenga- mine is at an elevation of 3,026 m. It is ranked as the 19th highest mountain in Japan. A feature of the shape of this fairly new volcano is that it is graduated and on the Nagano prefecture side, the Norikura plateau, shaped by lava flow, extends nearby at a 1,300 M to 1,500 M altitude. Autumn colors begin early at Norikura and around Kuraigahara-sanso Mountain Hut at an elevation of 2,400 m, peaking in late September. The mountain's Betula Ermani and Rowan trees will be covered by a beautiful "Nishiki" colored Autumn leaves of. After that, autumn coloring spreads down to the Norikura plateau, peaking around the middle of October. Symbolic Japanese maples trees at Ichinose-enchi at Norikura plateau become red from the middle of October to late October. From late October to early November, the autumn leaves' finale approaches when larch leaves change color from late October to early November.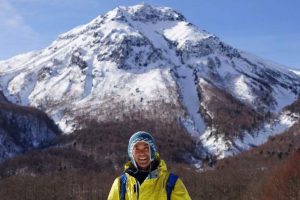 <Guide> Yuma Fujie
JMGA Nature Guide State II
(Shinshu Matsumoto Mountain Guide Association Yamatami)
Hot Spring Hotel Guesthouse Raicho Owner
GiFT NORiKURA Gelato&Café Owner
The appeal of Norikura Plateau is that anyone can casually enjoy dynamic nature through four seasons!!
The most attractive point of Norikura is that the route there is well-maintained to the highest point in altitude in Japan and that there is a bus stop at such an altitude in Japan. With the use of a bus, you can easily reach such a high point, whereas for other mountains, you usually need to a big effort to reach such points. From that high point, it takes only a few hours of hiking to enjoy fantastic views. Norikura is also known as a sacred place for hill climbing. While riding bicycles, you can enjoy the beautiful coloring of the autumn leaves. Within the plateaus, there are many variations of well-maintained promenades. You may enjoy autumn leaves viewing while hiking or cycling to Norikura's big three falls, which are Sanbon falls, Zengoro falls, O-daki falls, or Maime-ike and Dojyo-ike in Ichinose-enchi.
Route Information
Fall activity at Mt. Norikura-dake and Norikura plateau
4. Norikura plateau MTB tour