17. Tsugami-sanso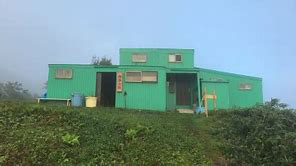 Business period: From Mid-June ~ Mid-October
※Please call for the 2022 business period and prices.
It is a hut on the northernmost part of the Northern Alps, along the Tsugami New Trail that leads from Asahi-dake to the Sea of Japan.
Benizuai-kai, which is responsible for cutting down the steep and long mountain trails and maintaining the huts, is a gathering of people who worked with the late Ken Ono who opened the Tsugami New Trail and have inherited his will.
When using it, the rule is to make the contribution of money that you can in a box installed in the villa. If you love the mountains, it's only natural to thank these activities and donate.
Elevation
1,560m 
About 11 hours from the Tsugami Shindo trail entrance, about 8 hours from the summit of Mt. Asahi-dake.
Capacity
40 people

Price
1 night with no meals. Adult 2,000 yen per person (your monetary contribution)
tent area
About 10 tent
(Cooperation fee) 1 Zhang 1,000 yen ~
Reservation
TEL 025-545-2885 (Benizuai Mountain Club)

Remarks
Home Page
The list of Mountain huts