158. Sanpuku-goya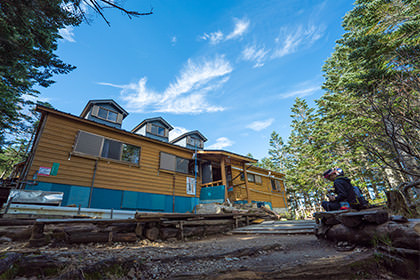 Business period July 1st-September 30th, 2022
※Accommodation reservation required
This is a mountain hut built on the main road of the Southern Alps from the Torikura trailhead.
Located in the middle of the Southern Alps, at a distance between peaks, it is indispensable for longitudinal travel.
In order to provide a comfortable environment for users, we are focusing on cleaning. It is popular for being able to rest slowly in a comfortable space.
Elevation
2,580m 
About 2 hours and 50 minutes from the Torikura trailhead, about 4 hours and 10 minutes from the summit of Shiomi-dake.

Capacity
100 people

Price
1 nights 2 meals Adult
-Weekdays 12,000 yen / person, holidays 12,000 yen / person
Room without meals
-Weekdays 9,000 yen / person, holidays 10,000 yen / person
Box lunch 1,100 yen
Dinner 2,500 yen
The list of Mountain huts