192.Kita-yoko-dake Hutte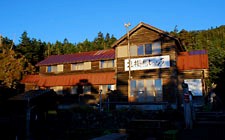 Business period: full year (reservation required)
It is open all year in a mountain hut located at a high altitude of 2,400m, above the Minamimine of Mt. Kita-yoko-dake.
However, during off-season weekdays, when climbers are not expected, there is a high possibility that they will be closed without a reservation.
As a general rule, staying overnight is a basic condition and an advance reservation is required when staying with meals. Preparation of a lunch box for the next day is not provided to avoid food poisoning.
| | |
| --- | --- |
| Elevation | 2,400m About 1 hour from Kita-yatsu-gatake Ropeway summit station, about 10 minutes from the top of Mt. Kita-yoko-dake |
| Capacity | 30 people |
| Price | 1 night 2 meals. Adult 8,700 yen per person |
| | |
| --- | --- |
| Tent area | No tent area |
| Reservation | TEL 090-7710-2889 |
| Remarks | Accommodation fee, +400 yen for April / May and October / November, +800 yen for December-March |
The list of Mountain huts