49. Tsurugi-dake Hayatsuki-koya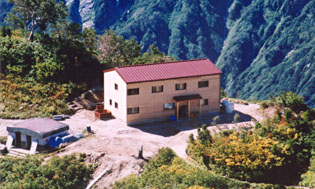 Operating period July 13-October 12
(Closed in 2021 season)
It is a hut built in the middle of the Hayatsuki ridge, which is one of the three major mountain ranges in the Northern Alps.
If you don't have this hut on the Hayatsuki ridge that runs from the mountain entrance to Mt. Tsurugi-dake, one will undoubtedly have to go up and down at a single stretch, therefore the presence of the hut is physically and mentally valuable.
If the weather is fine, the view of the deep Toyama Plain and the sea of Japan beyond is exceptional.
Elevation
2,200 m
7 hours ascend from Nakayama trailhead,
3 hours ascend from Mt. Tsurugi-dake
Capacity
50 people
Price  
1 night 2 meals Adult 11,800 yen / 1 person
| | |
| --- | --- |
| Tent area | No tent area |
| Reservation | TEL 090-7740-9233, 076-482-1700 (out of business period) |
| Remarks | |
The list of Mountain huts