191. Futago-ike Hutte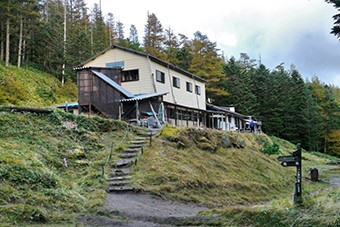 Business period: April 29 to November 6
You will reach this small hut on the shore of two small mountain lakes surrounded by virgin forests,in a depression that extends from Mt. Ogawara to Mt. Futagoyama.
The time when the trees surrounding the pond turn red, and the scenery where the sky full of stars is reflected on the water surface, is exceptional.
A few days a year, it was named "Futago-ike Beerfest" to hold an event where special dishes suited to beer were served. It is good to visit according to this festival.
Elevation  
2,030 m
About 50 minutes from O-gawara Pass and about 5 hours from Yachiho Kogen Natural Garden

Capacity
80 people
Price  
1 night 2 meals
Adult 7,800 yen / 1 person
| | |
| --- | --- |
| Tent area | About 30 tents (800 yen per person) |
| Reservation | TEL 090-4821-5200 |
| Remarks | facebook |
The list of Mountain huts