53. Asohara Onsen-goya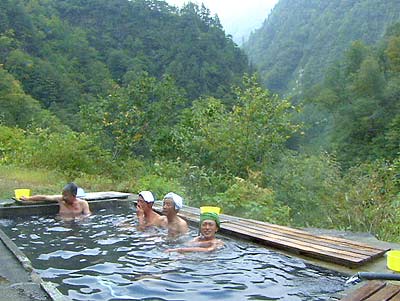 Business period: Late July-End of October
※Please call for the 2022 business period and prices.
It is a hut with a private hot spring in the so-called Shimono corridor along the valley of the Kurobe River.
We use hot water that is pumped out of the tunnel that was dug for material transportation in the construction of the Sen-nin-dani Dam.
The hut was built in 1949 (Showa 24). The worker's dormitory at the time of dam construction has been transformed.
Elevation  
860m
It takes about 5 hours 30 minutes to climb from Keyakidaira Station and about 15 hours to go down from Mt. Tsurugi-dake
Capacity  
24 people
Price  
1 night 2 meals Adult 11,000 yen / 1 person
Room without meals 8,000 yen / 1 person
Tent area
About 30 tents (1,000 yen per person)
Reservation
TEL 0765-62-1148
Remarks 
Tent night users can bathe for 800 yen

Home Page
The list of Mountain huts