Climbing Grade ①
Basic skill level and physical strength level:  From the Nagano Prefecture "Nagano Trail Guide by Grade"
Technical level
A
B
C
D
E
登山道

概ね整備済
転んだ場合でも転落・滑落の可 能性は低い。
道迷いの心配は少ない。

沢、崖、場所により雪渓などを 通過
急な登下降がある。
道が分かりにくい所がある。
転んだ場合の転落・滑落事故につながる場所がある。

ハシゴ・くさり場、また、場所 により雪渓や渡渉箇所がある。
ミスをすると転落・滑落などの 事故になる場所がある。
案内標識が不十分な箇所も含まれる。

厳しい岩稜や不安定なガレ場、 ハシゴ・くさり場、藪漕ぎを必要とする箇所、場所により雪渓や渡渉箇所がある。
手を使う急な登下降がある。
ハシゴ・くさり場や案内標識などの人工的な補助は限定的で、転落・滑落の危険箇所が多い。

緊張を強いられる厳しい岩稜の登下降が続き、転落・滑落の危険箇所が連続する。
深い藪漕ぎを必要とする箇所が連続する場合がある。

技術・能力

登山経験が必要
地図読み能力があることが望ま しい。

地図読み能力、ハシゴ・くさり 場などを通過できる身体能力が 必要

地図読み能力、岩場、雪渓を安定して通過できるバランス能力や技術が必要
ルートファインディングの技術が必要

地図読み能力、岩場、雪渓を安定して通過できるバランス能力や技術が必要
ルートファインディングの技術、高度な判断力が必要
登山者によってはロープを使わないと危険な場所もある
〇The ability to read maps is the ability to find your current position on a map and identify a route to your destination.
〇Route-finding is identifying the safest route when there is no hiking trail or it is difficult to find the trail.
〇Thicket-wading is pushing back and wading through dense thickets of bamboo or shrubs while hiking.
Physical strength level
1
2
3
4
5
6
7
8
9
10
Day trip possible
At least one night is required
At least one night is required
At least two or three nights is appropriate
<Notes of Caution>
Please be careful as some mountains of physical level 4 (at least one night is appropriate) do not have mountain huts or places to pitch a tent along the route, and depending on the hiker, it may not be possible to descend the mountain before sunset.
Some mountains of physical level 3 (day trips possible) require a considerable amount of time to access the trailhead, which can make it difficult to complete the hike in one day. In that case, we recommend planning your hike with the assumption you will spend the night.
Some mountains are volcanoes or in the vicinity of volcanoes. Before climbing, please make sure to check volcano information and follow the given instructions.
Climbing Grade ②
Climbing route constant: Based on the energy constant derived from Professor Masayoshi Yamamoto's research at the National Institute of Fitness and Sports in Kanoya

事例:Mt. Shirouma-dake Snowy Gorge Climbing Route Physical strength level: 5 Technical level: C Difficulty level:★★★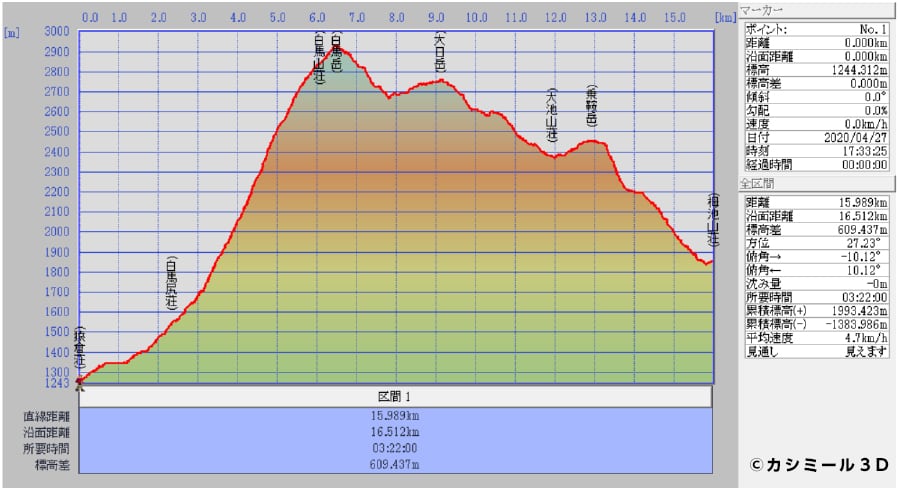 1.8×行動時間11.5(h)=20.7 +[(0.3×移動距離15.989(km)=4.7967)+
(10.0×上り累積標高1.9934(km)=19.934)+(0.6×下り累積標高1.3839(km)=0.83034)]
=登山ルート定数46.3
Routes with a constant of 30 or higher are said to require spending the night, therefore these routes are generally planned as overnight trips.
Level of difficulty: The Japan Alps Guide Center has set its own difficulty levels based on climbing grade and with consideration given to the climbing route constant.
標準的な難易度
非常に難しい
★
★★
★★★
★★★★
★★★★★
First Time to Climb
The Japan alps
Introductory Route
for The Japan Alps
The Japan Alps Route
for the Experienced
The Japan Alps
Expert Route
Challenging Route
in The Japan Alps
Please remember this should only be used as a reference.
Difficulty levels are assessed in terms of physical strength required and difficulty of the route's unique terrain characteristics in snow-free and good weather conditions.
In addition to physical strength and difficulty level, actual mountain hiking involves a number of risks that can result from inclement weather, remaining snow, physical condition, or other random factors, so it is necessary to plan accordingly.
For example, a one-star mountain can become a five-star plus mountain if the weather turns bad, which means there is a level of difficulty that cannot be determined by the number of stars.
The Mt. Shirouma-dake Snowy Gorge Climbing Route has been assessed as a 4 on the physical strength scale and a technical level of C according to Nagano Prefecture's grading scale, but the Japan Alps Guide Center has determined that more physical strength than average is required to climb the snowy gorge, and has therefore assessed the route with a 5 on the physical strength scale and a technical level of C.
The climbing route constant is 46.3 with a 3-star difficulty level.