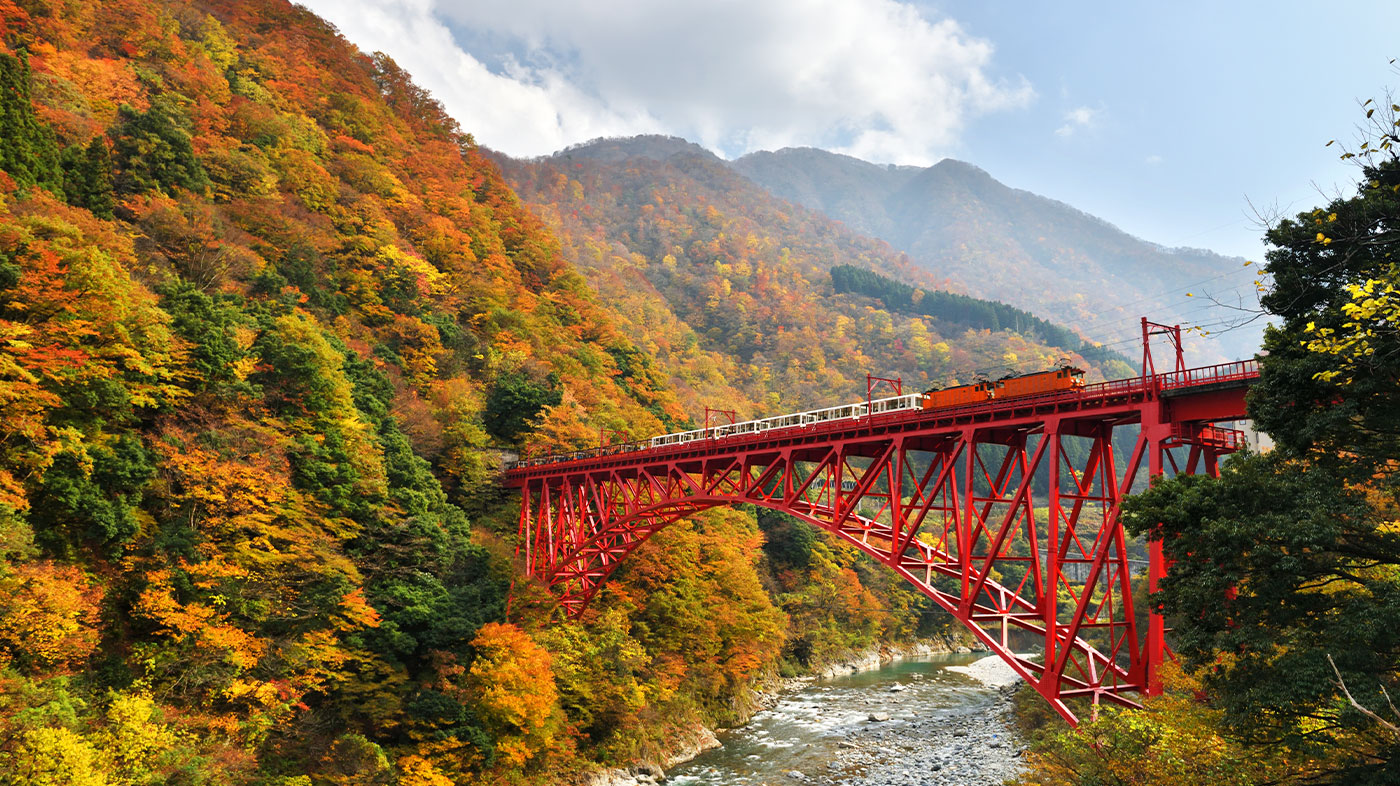 Kurobe Gorge is the deepest and the biggest canyon in Japan, which has been shaped by the flow of the Kurobe river for a long time. The Kurobe river flows between the Tateyama mountains and the Ushiro-Tateyama mountains.
A source of the Kurobe river is located at Mt.Washiba-dake in the North Japan Alps; the river flows by collecting rain and thaw water on mountains at a 3,000 m altitude and it empties into Toyama bay. The Kurobe dam at Omae-zawa in the upstream divides the river into the upstream and the downstream. The upstream from the dam is called Kamino corridor and the downstream from the dam is called Shimono corridor. The old Nichiden promenade and Suihei promenade, shaped by the carving of the steep cliffs of the canyon, continue along the Shimono corridor. The corridor holds scenery spots such as Jyuji gorge or S gorge and many hikers visit there while the corridor is open in the Fall.
Operation season for the railway: mid-April (it varies by year) ~ the end of November Unazuki ~ Kuronagi about 25 minutes. Unazuki ~ Keyaki-daira about 80 minutes.
It takes about 20 minutes to walk from Kuronagi station to Kuronagi hot spring. It takes about 1 hour from Keyaki-daira to Baba-dani hot spring.
Technical/Physical strength level: Family level
The Kurobe Gorge has been featured as a suitable site for hydropower from long ago due to the great amount of water and the steep angle of the Kurobe river. The railway was built to carry materials and workers to develop the hydropower. In order to meet requests from visitors longing to visit a hidden place, the railway started service for tourists to the Kurobe Gorge in the 28th year of Showa, under the permission of a local railway law. The number of current users of the railway is nearly 700,000 annualy. From Unazuki station to the last stop, Keyaki-daira station, it is 20.1 km in length, and it takes about 1 hour and 20 minutes. Along the path, there are scenery spots such as Yamabiko bridge, Unazuki lake/Komen bridge, or Atobiki bridge. There are also hot springs such as Kuronagi hot spring or Kane-tsuri open air hot spring and unique landscapes such as Mannen-yuki or Hitokui-iwa. Sarutobikyo in Keyaki-daira is recognized as a national special natural monument and a national special landscape.Moreover, the Kurobe Gorge panorama viewing tour to the panorama look out, reached by riding "the special train" for construction sites of Kansai Electric Power and transferring to the "Tateko elevator", which varies in height for 200 m, has started from the 27th year of Showa.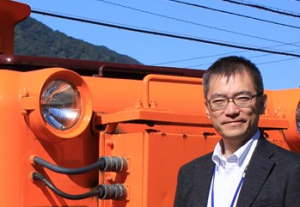 <Course Guide>
Kurobe Gorge Railway Company Sales department Deputy General Manager
Mr. Takayuki Urashima
The Kurobe gorge in autumn is beautifully colored and referred to as the "Godan-zome". Please come visit us!
Route Information
Special events, tours
Many tours are available, like original tours such as the "Kurobe gorge panoramic viewing tour", which includes a railway ride and use of the "Tateko elevator" operated by Kansai Electric Power. From the end of May to the end of November.           https://www.kurotetu.co.jp/en/